NT Dinefwr Drive/Pass Wide and Slow Event
On a bitterly cold but dry day we met at Dinefwr Park for our annual drive which this year was linked to the national Pass Wide and Slow campaign.  Turnouts were clearly visible in shades of fluorescent pink, yellow and orange and a whole bundle of leaflets to distribute to any members of public willing to stop for a moment and hear about the campaign. We gathered in the car park before setting off on a route of choice – some chose a novel approach to the circular route but all found their way back.  Donna Harries drove her lovely cob May to the event, arriving bedecked in a very fetching outfit (Donna had no intention of getting cold) with exercise rug and apron made professionally by Donna and her mother.  Hazel Knight and grandson Wely brought their new pony who behaved beautifully – we'll be seeing a lot of her no doubt and Mac and Jenny Humphries had their 'diva' pony Wisper.  Mike, (sporting a hand brace after a recent injury), and Maggie Eaton are great supporters of our events and their pony, as always, just took it all in her stride.  Rachel Royle and Luke came with gorgeous Ted (amazing amount of feather) and Debbie McPhee and Mike Davies were able to join us for the fist time for a while – it was lovely to see them. Helen and Bob Stevens had Helen's home bred cob Birdie and although they had a nasty encounter with a rude and aggressive motorcyclist, no harm was done but was proof, if needed, that the roads can be a dangerous place for horses.
Our poster ponies however were Carolin Gibbs pair of Shetlands making their first public appearance. These ponies had been broken fairly recently by Julie Wedgbury and showed confidence and just that little bit of Shetland attitude as they won the hearts of everyone they met.  Well done Carolin – great achievement.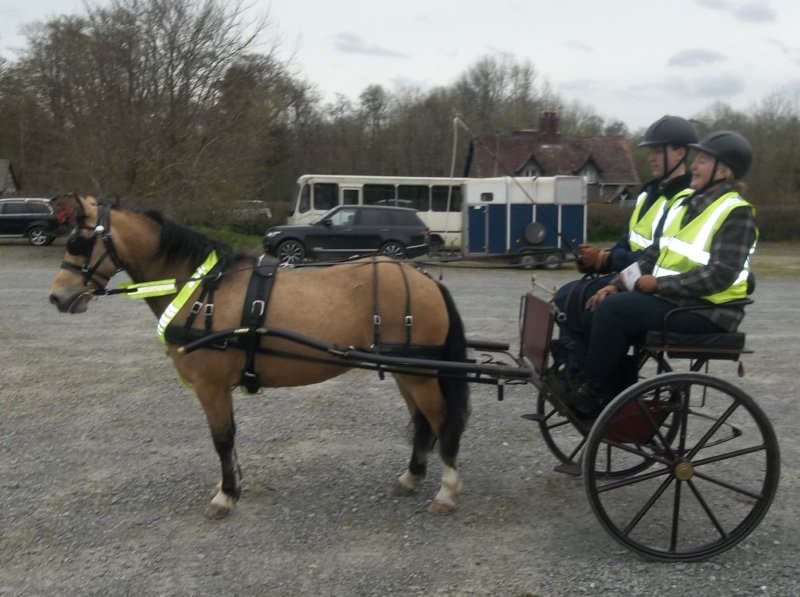 After the drive everyone gathered for the mandatory cake and more cake and a general catch up.
West Wales